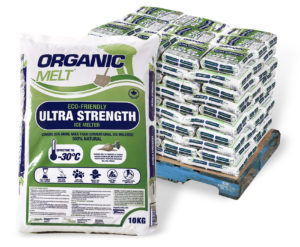 Benefits and Advantages
Effective down to -300C
Fast acting and long lasting
30% less corrosive
Extended protection against re-freeze
Safe for pets' paws
Melts 25% more ice
Does not stain
Prevents slips and falls
Reduces granules that get tracked into buildings
No magnesium or calcium
Less corrosive than other ice melters
Will not freeze
Organic Melt is available online and in participating stores across Canada.

ORGANIC MELT – The most powerful ICE MELTER in its class.  PERIOD!

ORGANIC MELT is the safest, most effective ice melter for concrete, asphalt, pavers, stones, lawns, gardens, and pets when used as directed.
This ULTRA STRENGTH ice melter is effective down to extreme cold temperatures and eco-friendly.  Organic Melt is enhanced with Fusion, our patented organic and biodegradable deicing liquid derived from degraded sugar-beets, for maximum melting power.
Finer granules of salt are used in order to speed up the melting process and to reduce the amount of material that can be tracked inside buildings. Organic Melt is less harmful to the environment than conventional ice melters.  More ice is melted with less material plus Organic Melt stays active for a longer period of time, thereby reducing the frequency of re-applications which also translates into less damage to all surfaces and vehicles.
Organic Melt has been used across Canada by municipalities, snow removal contractors and commercial & residential clients since 2007 and is widely recognized as the leader in premium eco-friendly ice melters.
Available Formats:
5kg Shakers
10kg Bags
20kg Bags
1000kg Bulk Bags
Directions for best results:
Always remove as much snow and slush as possible before applying or re-applying Organic Melt and promptly remove melting snow and ice as product begins to work.
Spread product evenly at 70g per square meter and do not over-apply.
Freezing rain or sleet: Apply product at the beginning of precipitation to prevent ice from accumulating.
Wet or heavy snow: Remove snow and apply product to prevent ice from bonding to the surface.
Ice or hard-packed snow: Apply product as directed and remove melting ice and snow as it begins to work. Repeat as required.
Always test in an inconspicuous location before using on a large scale for the following surfaces: new concrete (less than 1 yr. old), patterned and/or colored concrete, precast concrete (steps or pavers), stone or brick masonry, flagstone, surfaces that are chipped, cracked or have exposed aggregate.
Cautions:
Melting snow and ice increase the frequency of the freeze/thaw cycles that affect all surfaces. Surfaces of poor quality may not withstand the stress associated with these cycles. Diligent and prompt removal of snow and ice as they begin to melt will drastically reduce the potential for surface damage.
Keep this product out of reach of children.  Avoid contact with skin and eyes, as product may cause eye and/or skin irritation in some individuals. Product may be harmful if swallowed by humans or animals. Avoid inhaling product dust or droplets.
Use this product at your own risk.